Find High-Quality CBD Oil, Gummies, & More in Cincinnati
Whatever you're looking for, you can find it at Accoy Health: CBD oil, tinctures, lotions, and more. We carry CBD gummies and edibles as well as salves and capsules. As one of the first hemp shops in Cincinnati, we're proud to provide high-quality, verified products made from industrial hemp. Find relief from nagging aches and pains, promote better health and wellness, and get the most out of your everyday life... our CBD products can help!
Just fill out the short form below to learn more about CBD gummies, oils, and more!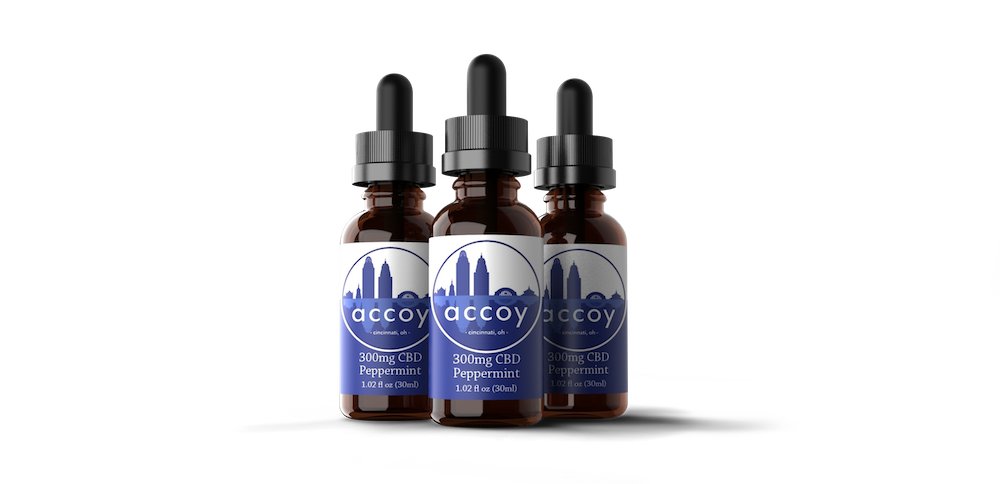 Accoy Health Offers A Diverse Selection Of CBD Products
Everyone uses CBD differently, which is why Accoy Health is committed to bringing a variety of locally-sourced CBD products to Cincinnati. From CBD gummies to oils and lotions, read on to discover the CBD products we offer.
CBD Oil
CBD oil drops or tinctures are a great way for you to enhance your sense of wellbeing and live a healthier, happier life. CBD oil can be taken in a pure form or it can be flavored. It can be taken mixed into a beverage or sublingually. Everything we offer at Accoy Health is hand-picked to deliver on taste, aroma, and health benefits. We also offer CBD capsules as well as tinctures that supercharge your oil with secondary, supplemental ingredients that allow you to get the most out of every drop!
Natural Oil:
Ingredients: MCT Oil, CBD (Cannabidiol) Hemp Extract.
Peppermint Oil:
Ingredients: MCT Oil, Peppermint Oil, CBD (Cannabidiol) Hemp Extract.
CBD Gummies
Our CBD gummies and chews are a tasty way to enjoy the health-boosting benefits of CBD! With multiple flavor options to choose from, CBD gummies are a great way to combat daily stress, help kids with chronic pains or illnesses take CBD, or to simply turn your daily dose into a real treat.
Topicals & Lotions
From soothing achy joints to rejuvenating dry and worn-out skin, CBD helps your body repair itself and move smoothly. Accoy Health has partnered with local hemp growers to bring only the best, most effective products to Cincinnati.
Twist It Up Topical Lemongrass:
Ingredients: Extra Virgin Olive Oil, Yellow Beeswax, Coconut Oil, Shea Butter, Jojoba Oil, Essential Oil, Tea Tree Essential Oil, CBD (Cannabidiol), Hemp Extract.
Lavender Lotion:
Ingredients: Lotion Base (Purified Water, Organic, Coconut Oil, Organic Sunflower Seed Oil, Cetearyl Alcohol, Coco-Glucoside, Organic Shea Butter, Xanthan Gum, Apricot Kernel Oil, Phenoxyethanol, Organic (Aloe Vera) Leaf Juice Power, Citric Acid, Tocopherol, Lactic Acid, Benzoic Acid, Dehydroacetic Acid), Essential Oil, CBD (Cannabidiol) Hemp Extract.
CBD Jam, Bath Balms, and More!
We can boast a 900 square foot storefront with space for the full spectrum of CBD products. If you're looking for a CBD-infused jam to spread on your toast in the morning or to take a relaxing bath suffused with rejuvenating CBD oils, Accoy Health offers products that deliver. Get access to the incredible health benefits of CBD in the way that suits your body and your mission -- just visit us in Cincinnati and browse our huge selection of hemp products!
Citrus Bath Salts:
Ingredients: Dead Sea Salt, Epsom Salt, MCT Oil, Essential Oil, CBD (Cannabidiol) Hemp Extract.
Visit Accoy Health in Cincinnati Today!
We're happy to help you select the CBD product that's right for your individual needs. From treating stubborn aches and pains to feeling more energized in everyday life, CBD products have a huge range of lasting benefits. Start on your CBD journey today!
Just fill out the short form below if you have questions about our CBD products!